CemGEMS web app tutorial¶
Version 0.4.2 beta¶
Accessing CemGEMS web app¶
CemGEMS web app is accessible anywhere, anytime, in any web browser (except Internet Explorer) by navigating to
Internet access is required to log in (log out) and to equilibrate recipes or simulate processes.
Attention!
CemGEMS v.0.4.0 beta and up supports the user registration with email code verification, and keeps the user data in databases differently from any earlier version. For this reason, all tasks previously created by test users will be lost at the time point of launching CemGEMS v.0.4.x beta. All test users who tried working with previous CemGEMS versions will need to register in a normal way, after cleaning the application memory in the browser as described in the troubleshooting page. Due to continued development, the chance of breaking changes and partial loss of user data may persist until the final v.1.0.0 release.
Next steps: Getting started¶
Provide your feedback!¶
Dear User! Your feedback is paramount for the developers to make CemGEMS web app truly useful, funny and pleasant to work with. To assist you, we provide a button with a dialog, as shown on this screen image: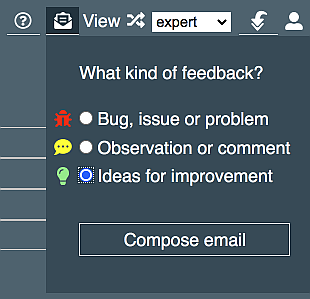 Clicking on "Compose email" button will open up your default email composer, where you can enter your text and attach screen images, or (better) put them onto your cloud drive and add the URL link to email that will go to admin @cemgems.org.
---
Last update: August 3, 2020